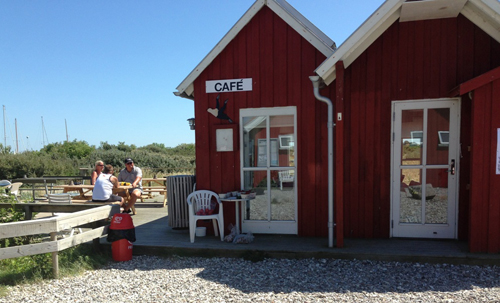 In association to Avernakø marina we have a small café, which have been extended significantly in 2012 and now contains a regular restaurant kitchen.
It seeds up until about 25 guests indoors and about the same outside, in our spacious porch.
During the year of 2014, the café will be run by Gitte Sørensen, whom will be planning following upcoming events for the season: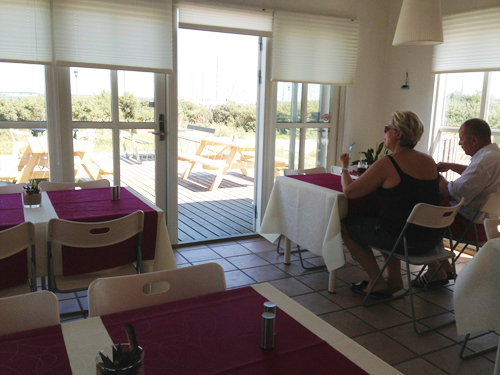 Avernakø Harbourcafé 2017
We are very pleased to have opened the doors for yet another season at the Avernakø Harbourcafé.
Daily opening hours at the Harbourcafé :
From the 14th of august: 11.00 am. to 9.00 p.m. all days
Brunch: .11.30 am – 2.00 pm (from 1st of July) Scrambled eggs and sausages, salmon, ham and asparagus, two kinds of cheese, home baked bread, white and brown, home baked danish pastry, soured whole milk with sprinkles, fresh fruit, 4-6 kinds of local marmalade, various kinds of must, coffee and tea
Picknickbasket : Can be ordered in advance to pic up later.
2 sandwiches by desire - Cheese and ham
Egg and shrimps
Chicken and bacon
Roast pork
In addition fruit of the day, cake of the day and one mineral water.
Beer, wine, soft drinks and must can be purchased as well.
Lunch: Various types of sandwiches, pies and other light meals.
Evening: Solid home cooked bistro courses as e.g. wienerschnitzel, fried beef tartare, shooting star and manor steak (minced beef steak with green peas and bearnaise sauce) The kitchen has its focus on quality and local elements.
All day: Coffee/tea with home baked cake/cheese sandwiches/pancakes with icecream, ice lollies as the children knows them as well as various types of our own ice cream.
Furthermore surprises will occur as well as we expect to be able to offer barbecue packages containing meat from local suppliers.
Bike rental during café openinghours: 20 dkr. per 2 hours and 50 dkr. for a whole day – deposit 50 dkr. will be refunded by the return of the bike.
Contact at phone no. 29809986 or email This email address is being protected from spambots. You need JavaScript enabled to view it.
We are looking most forward to be at your service
See you soon
On behalf of
the café staff
Gitte Sørensen
The homepage of Avernakø marina has been made with support from The European Community and The Ministry of Housing, Urban and Rural Affairs according to the program of rural affairs and fisheries development.